Shooting 1,000-yards is one of the first gates to pass through for precision shooters. This is the point that separates those with some skill from those who do not. That is not to say people with no skill cannot work up and become proficient at shooting long range. However, the of variables in shooting long-distance can be overwhelming and confusing.
Once you are able to understand how to read the wind, adjust for dope, and range unknown distances you will see your accuracy dramatically increase. It will take patience, time and practice to get to that point, but it is possible. One of the most important pieces in getting you to 1,000 plus yards is your best 1000 yard scope. Let's look at a few of the factors for long-range shooting and a list of scopes to consider achieving a 1,000-yard impact.
If you're in a hurry and don't have time for the details, here are our best picks for 1000 yard plus scopes:
Tips and Tricks for Shooting at Distance
The most important piece of learning how to shoot distances over 600 yards is ensuring your set up can provide accuracy and consistency. A lot of research should be put into not only the type of rifle you should buy, but also into the scope, mounting hardware, type of reticle, unit of measurement, and other accessories. However, where should you start? Here are some points to consider.
MIL vs MOA
The most common measurements for turret adjustments and/or the reticle will be milliradians (MIL) or minute of angle (MOA). The difference between these two units is much like the difference between metric and standard units of measure. MIL is a measurement that is defined as a 1/1000th of a radian while MOA is the measurement that is 1/60th of a degree in an angle.
For American shooters, MOA seems easier to understand since the math works out to be about 1-inch per minute per 100 yards. So, at 200 yards, 1 MOA would equate to approximate 2-inches. MIL can be a little tougher to calculate since 1 MIL equates to approximately 3.6 inches at 100 yards. However, the MIL measurement can be easier in determining range on targets with unknown distances once you understand the math. In addition, you must ensure the turret and reticle measurements match. Meaning, if the reticle is MOA then the measurements for the turrets should be in MOA as well.
Mounting Hardware
The interface between your scope and your rifle can be a very important piece. There are two main options, scope rings and scope mounts. One of the most important aspect of using either of these mounting options is to ensure the scope tube diameter matches the diameter of the rings or mount. If 30mm rings is used with a scope with a 1-inch tube, then the scope will move in the rings.
The movement of the scope in the mount, or rings, will dramatically affect the accuracy. An added bonus to scope mounts to scope rings is that most will have an offset that can increase the distance you could shoot by increasing the amount of adjustment your scope can have.
Reticle
The reticle and the measurements used are not solely relegated to a MIL or MOA crosshair. One of the more popular non-standard reticles would be the bullet drop compensated (BDC) reticle. These reticles are mainly seen in low power variable optics and provide aiming points that compensates for the drop of the bullet as specific distances.
These reticles are extremely handy for intermediate cartages and adjusting for distance on the fly. However, these reticles are not recommended for ranges over 800 yards since they are difficult to make fine adjustments for wind and elevation.
Accessories
Creating a stable shooting base will be helpful in improving accuracy and increasing your odds at reaching 1,000-yards. One of the first accessories that you may consider is a good bi-pod. A solid bi-pod will create a foundation to maintain a level shooting platform.
A mono-pod is another option to consider assist in stabilizing the rifle; however, a sock with sand could be a cheaper alternative. In addition, a level that can be attached to the scope to ensure the scope and rifle remains plumb when firing. Maintaining a level trajectory will ensure more accuracy at extreme long distances.
Scope Brands to Consider for 1000 Yard Shooting
There are numerous companies that produce riflescopes. Knowing which brands are the best can be tricky and in some cases a matter of preference. Here are a few brands that consistently produce solid performing scopes.
Schmidt and Bender
This family-owned German company has been producing high-end scopes for over 60 years. Their commitment to quality and consistency has earned them an ISO 9001:2000 certification. They have specialized in developing scopes for hunting, target shooting, law enforcement and military applications. In addition, Schmidt and Bender (S&B) won a $34 million contract with the US Special Operations Command (SOCOM) in 2011 for the Precision Sniper Rifle program.
Nightforce
One of the most rugged scopes on the market today. Nightforce has been producing quality optics in America for civilian and military applications for over 25 years. In the early 2000s, Nightforce started receiving military contracts and eventually competed against Schmidt and Bender in the PRS program. Even though Nightforce lost out to Schmidt and Bender in the PSR program they are still thought as one of the best scope manufacturers in the market.
Leupold
Producing optics since shortly after World War II, Leupold is one of the oldest and best-known scope manufacturers. After missing an opportunity to shoot a deer due to a foggy scope, Marcus Leupold was determined to build the best optic possible. Using the company's experience for producing surveying equipment since 1907, Leupold has focused on precision to ensure consistent accuracy. Due to this, Leupold has been used not only by civilians but also the US Army, Secret Service, Navy SEALS and the Israel Defense Forces.
Nikon
Nikon is one of the largest companies on this list with a very diverse list of products. This Japanese company has been best known for their camera and photography equipment since 1917. Their history of producing quality camera has equipped them to have some of the best glass in their binoculars and rifle scopes. Their commitment to precision and quality has made them a viable alternative in the high-end scope market.
Vortex
Vortex is one of the newer companies on the market today. They have consistently produced quality long-range and tactical optics for a variety of applications. As shooting sports and tactical training has become more popular in the US, more and more people have turned to Vortex for a scope on a budget compared to the higher priced options.
Primary Arms
Being the newest company on the list does not mean they are the least capable. Primary Arms (PA) looks to be the most trusted name in affordable scopes. While their optics are more than half the cost of some of the other brands on this list, it is not an indication of their quality. Primary Arms has produced some of the best and respected affordable scopes on the market today.
Best 1000 Yard Scope on the Market Review
1

Schmidt and Bender PM II High Power 5-45×56 (34mm Tube)
Winner of the Precision Sniper Rifle scope contract in 2011, Schmidt and Bender is a premier optics manufacturer and the PM II High Power 5-45x56mm scope is one of their best. First impressions of this scope have been extremely positive based on the name alone; however, the PM II produces the highest quality as to be expected from S&B. Previous offerings have had issues with a tunnel effect at low magnifications but that has been corrected in this model. This first focal plane scope with 3 different reticle options to choose from has made it a highly sought-after model for S&B. The 34mm tube not only allows for more than enough internal room for the reticle to be adjusted but also gives exceptional light transference for brightness and clarity in low light environments.
One of the more interesting aspects of the PM II High Power is the low profile "German Turrets." S&B has color coated the turrets in black, red, and gold to represent the German flag. The use of the low-profile turrets also allows for a more tactical profile to mitigate snagging as the rifle is employed. However, one concern with shooters may be the magnification range. 45x power may be over kill for a 1,000-yard shot and could also amplify the mirage effect on warm days.
2

Nightforce 5.5-22×50 NXS Riflescope
Build to compete in the US SOCOM Precision Sniper Rifle program, this scope checks a lot of boxes. Nightforce is known for being one of the toughest and most rugged scopes on the market. This makes the NXS a great option to pair with a Remington 700 and hike into the mountains in search for a prize elk. Or it can be used for law enforcement and tactical applications as it has proven to be a fierce competitor to Schmidt and Bender's PSR offering.
The NXS has extremely clear glass that is very consistent through the entirety of the scope's magnification range. Nightforce offers multiple reticles that will accommodate preferences of mil dot or MOA measurements. This scope also boasts 100 MOA worth of adjustment for elevation with even more adjustment coupled with the MOAR reticle. Like the S&B PM II High Power, the NXS will give you the magnification and clarity you need to put a shot on target. However, the shooter will need to have a firm grasp of the fundamentals. While a scope will allow you see better it may not allow you to shoot better. This scope will require some time to get used to but will also be extremely intuitive once you have a grip on the features.
3

Primary Arms Platinum Series 6-30x56mm Riflescope
Primary Arms recently launched their Platinum Series of riflescopes to directly compete with higher end models. The Platinum Series has been a huge success for PA with the line-up capturing not only the low power variable optic market but also the long-range shooting market. The 6-30x54mm scope is a great example of that. To provide flexibility to PA's customers it is available in 4 different reticle offerings in the DEKA, HERA, ATHENA and the ACSS HUD DMR. The DEKA MIL set-up is PA's take on a standard mil-dot duplex reticle with .1 MIL graduations from 0 to 2 MILs and .5 MIL graduations after. The HERA set-up is the MOA Christmas tree reticle with graduations similar to the DEKA. The ATHENA is the MIL sister to the HERA reticle. And finally, PA's patented ACSS HUD DMR reticle which is their long-range version of the ACSS reticle.
The Platinum Series scopes were designed to give the shooter the best possible optic for half the price of the premier scope manufacturers. The Japanese HD glass provides some of the crispest and bright images available for a scope under $1500. Couple the glass with the 56mm objective lens and shooting at dawn or dusk will not be an issue. With all of these features, it is no wonder that Primary Arms is the best alternative to Nightforce and S&B.
4

Vortex Razor HD 5-20x Riflescope
The Razor series has been Vortex's flagship optic since its inception. The 5-20x power scope was built to handle tactical applications but accurate enough to be used for long-range precision shooting. While Vortex optics have not been used by military units, it still has the durability and precision needed to be a good option for anyone. Shooters have commented how easy it is to shoot out to 1500-yards with this scope. It's no wonder why Vortex has made a name for itself as a quality rifle scope.
One of the most notable features that the Razor has is its EBR-2B reticle in either MOA or MIL measurements. This Christmas tree style reticle naturally allows the shooter to quickly adjust for hold over and windage. This is key when engaging multiple targets consecutively. The target turrets are precise and audible with a zero stop. Scope clarity and crispness is exactly what you would expect for an optic at this price range even at maximum magnification. The Razor is not as expensive as the Nightforce or S&B, it still is a very capable scope that will allow you to shoot further than 1,000-yards.
5

Leupold MK 4 LR/T 4.5-14x50mm M1 TMR
The MK 4 is renown for being the scope used by US military snipers. While US SOCOM has moved away from the Leupold Mk 4, it is still widely used by specialty units like the 82nd and 101st Airborne Divisions. Being military tested and proven makes this one of the best scopes under $1,000. For those on a budget and trying to stretch their money on a quality rifle and scope set-up, this scope has a lot to offer. In addition, if you have a little more money to play with, Leupold offers 2 other variations of this scope with added features.
Much like the Nightforce NXS, the Mk 4 has a 100 MOA end to end turret adjustment. As to be expected, Leupold provides an optic with a clean, sharp and bright view enabling the shooter to focus on the fundamentals. The M1 turrets have precise and tactile clicks that will greatly assist in zeroing and adjusting the reticle later. Regardless if you are using this long range scope for hunting, competition or just benchrest target shooting, the Mk 4 will be a great pick.
6

Vortex Viper PST Gen II 5-25x50mm Riflescope
Vortex again makes the list with another viable contender to the high-end scope options. The Viper PST Gen II is the upgraded version that offers better glass clarity, color fidelity and brightness than its predecessor. It is available with the EBR-2c and EBR-7c reticles for both MOA and MIL measurements. The reticles are intuitive to use and provide detailed holdover points for precision adjustments. Vortex also offers the Viper in 4 different magnification ranges to give you the ability to choose what is right for you.
While the Viper does offer an illuminated reticle, some shooters may find the glass etched reticle to be more than adequate when shooting. Another great feature is the fiber optic turret rotation indicator that will help in finding zero in low light situations. The target turrets are easy to grip and turn like most of the high-end scopes; however, most shooters will enjoy the lower profile. Overall, the Viper PST Gen II is an awesome alternative to the Leupold Mk 4.
7

Nikon Black FX1000
Nikon is renowned for not only their cameras but also binoculars and rifle scopes. They continue to produce solid optics that will assist in reaching 1,000-yards. The FX1000 is just one of the many scope offerings that will ensure precision at distance and is the one of the best offerings under $500. It was specifically engineered for long-distance competition shooting and produces consistent accuracy at any range.
One of the best features of this Nikon scope is the FX-MRAD reticle that is not cluttered. The lack of a potential cluttered Christmas tree style reticle may be pleasing to some; however, you will need to use the turrets if windage and elevation adjustments are needed. Speaking of the turrets, they are easy to grip without being obnoxiously large and graduate at .1 MIL per click. Overall, the Nikon Black FX1000 is a great option for anyone to stretch their rifle's legs.
8

Primary Arms Silver Series 4-14×44 R-Grid 2B Riflescope
Just like Vortex, Primary Arms again graces this list, this time with a budget option. This 4-14x44mm R-Grid 2B is the best optic for under $300. PA has discovered the formula on producing scopes with Japanese HD glass at a price that anyone can afford. In addition, reaching out to 1,000-yard is not going to be an issue even with a lower powered optic in comparison to the more expensive scopes. Being built with heavy duty 6063 aluminum makes this scope shock proof, waterproof and as tough as a tank.
The piece that makes this scope the best bang for the buck is the R-Grid 2B reticle. This Christmas tree style reticle has a mil-dot grid for precise holds; however, also uses Primary Arms' horseshoe and chevron center for quick target acquisition. Near the center of the reticle, the R-Grid has .1 MIL subtensions for precision holdovers. The first focal plane optic coupled with the R-Grid reticle will stay 'true' through all the magnification range. For the money, Primary Arms Silver Series 4-14×44 scope is one of the best values to reach out to the vaunted 1,000-yard goal.
1000 Yard Scope Q/A
Mark Grimsley – Shooting from one mile!
What magnification should be used for 1,000-yard shots?
A lot of modern scopes has magnification up to 24x power or even higher. However, having more magnification does not mean you can see better. As magnification increases, there are several issues that become more evident such as clarity, brightness, and parallax. While higher end scopes will have fewer issues with these concerns they are not immune. Most believe that 16x power is more than enough zoom to ensure clarity, brightness and parallax is not degraded when attempting a 1,000-yard shot.
What caliber is best for shooting 1,000-yards?
This is probably one of the most difficult questions to answer since there is a host of calibers that can reach a 1,000-yard target. With the right set-up, even 5.56mm/.223 REM can score a hit up to 1,000-yards. However, if you are concerned with consistency and accuracy at distance then you will want to look to calibers with enough power to stabilize the projectile passed the 1,000-yards. 7.62x51mm, or .308 WIN, has been the king of long-distance shooting for decades with tons of data on different round configurations and widely used by military and law enforcement.
But, the newest up and coming round is the 6.5 Creedmoor. It is basically a 7.62x51mm round necked down to 6.5mm. This creates an extremely fast round that will continue to stabilize at very long range. The US SOCOM has even started to phase in 6.5mm Creedmoor to replace the 7.62x51mm round. Other calibers like .300 WIN MAG, .338 Lapua Magnum, .30-06 Springfield, 7mm REM and 6.5x47mm Lapua are all viable options but may be difficult to find if you do not reload.
What reticle is best for extreme long-distance shooting?
There are two methods of thought on adjusting elevation and windage (or dope) to score a hit at 1,000-yards. The traditional method is to dial in your dope using the turrets to align your reticle on the target after estimating your hold over and correction for wind. This can be a very precise method of ensuring you are using the exact correction estimates; however, it can also have some draw backs.
First, breaking your sight picture is never recommended which will be needed to look at your turrets to ensure the correct value is entered on the turrets. Next, some turrets may be hard to read, turn or the shooter might unintentionally over/under correct. Finally, if a quick shot or multiple engagements at varying distances is needed to be made, adjusting turrets may simply take too long to get accurate shots on target.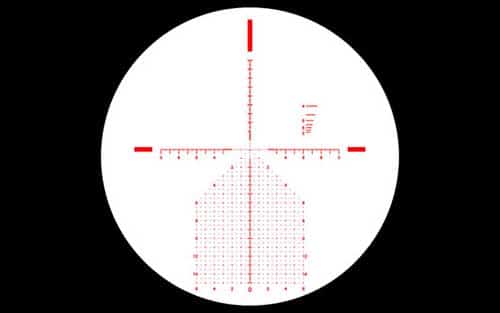 Scopes with Christmas tree style reticles is a great option to mitigate the need to use turrets. These types of reticles will allow you to quickly adjust for elevation and windage using the graduated and tiered reticle. Most will allow for an additional 15 MILs (or MOA) adjustments for elevation and 10 MILs (or MOA) for windage corrections. Using the reticle to adjust your dope will allow you to quickly correct windage or elevation holds for follow on shots.
Conclusion
A scope is one of the most important components to your rifle when trying to reach a target at 1,000-yards. Trying to determine which is the best for is a difficult task for anyone to solve other than you. It is critical that you spend time research which scope will meet your objectives.
However, it is also important for you take your time to learn how to use your best 1000 yard scope as well. Practice is the best way to build your confidence and understanding of any piece of gear. With that knowledge and confidence there is no reason that you should not be able to surpass the 1,000-yard mark.