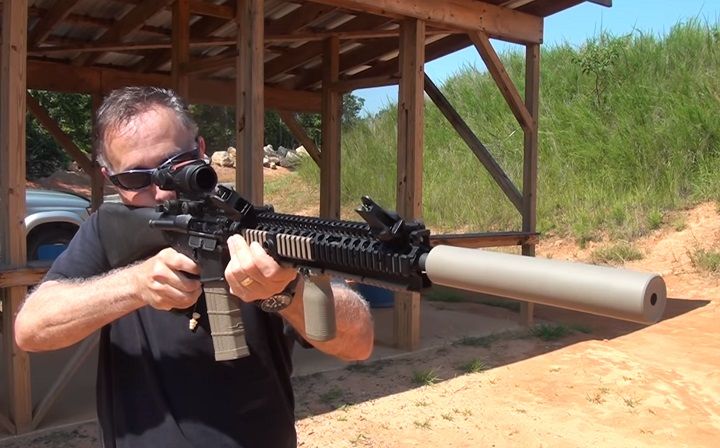 Once considered a boutique cartridge for AR-15 platform weapons, .300 AAC Blackout is definitely here to stay. The cartridge was originally developed to deliver ballistics similar to the 7.62x39mm cartridge used in Russian AK-47s. It manages to do just that while still using standard AR-15 magazines and not sacrificing round capacity. .300 Blackout also reliably shoots both subsonic and supersonic ammo and pairs perfectly with a suppressor.
This cartridge is definitely a gem. However, if you want to get the most out of your .300 BLK rifle (or pistol), you'll want a quality optic.
If you're searching for the best 300 Blackout scope, you've come to the right place. We're going to cover the qualities that make an optic a suitable partner for .300 BLK. We're even going to share some of our favorite models to help you narrow down your search.
If you're in a hurry and don't have time for the details, here are our best picks for .300 Blackout Scopes:
What is .300 Blackout?
.300 AAC Blackout (also known as .300 BLK) is probably the most popular AR cartridge outside the standard .223/5.56 chambering. Although the cartridge is most commonly used in AR-15 platforms, you can also find bolt action and single shot rifles chambered for this quiet-shooting round.
.300 BLK is built on a standard .223 Remington case that has its neck blown out to hold a heftier .30 caliber bullet. This cartridge performs best at short to medium ranges.
What really makes the .300 BLK special is its capacity for shooting subsonic ammo from an SBR (short barreled rifle). In fact, you'll get the best performance from this cartridge when it is fired from a nine-inch barrel.
Pair a short-barrel modern sporting rifle with a suppressor, and .300 BLK offers some of the quietest shooting on the face of the planet. For that reason, a suppressed SBR and .300 BLK ammo make a great combo for home defense applications or hog hunting over bait.
Finding the Right Scope for .300 BLK
.300 BLK is NOT a long-range performer. Projectiles tend to sputter out after hitting the 100-yard mark. However, this cartridge is a star when it comes to CQB.
Since you really don't want to stretch shots too far beyond 100 yards, an optic with relatively low magnification is your best bet. Anything higher than 3-9x is really going to be overkill.
For best results, look for a scope with a Mil-Dot or BDC reticle with holdover marks calibrated specifically for standard Blackout cartridges.
For home defense, a true 1x optic (with zero magnification) or a quality red dot or holo sight will ensure you have an ample field of view for engaging close-range targets.
Best 300 Blackout Scope on the Market Reviews
Not sure where to start? Here are a few of our favorite models for .300 BLK.
1

Vortex Optics Razor HD Gen II 1-6×24
Vortex Optics are preferred by hunters, recreational shooters, and 3 Gun competitors alike. While all Vortex scopes are top quality, the Razor HD Gen II is definitely one of the best models the company has to offer.
The 1-6x magnification range is practical and versatile, especially when paired with the scope's premium optical quality. Made with high-density, extra-low dispersion glass and fully multi-coated lenses, shooters will enjoy bright, crystal clear images even in low light.
Practically indestructible, the Razor HD Gen II is made from a solid piece of aircraft grade aluminum alloy. The housing is o-ring sealed and argon purged for reliable fogproof, shockproof, waterproof performance.
Shooters will also appreciate this scope's unique JM-1 illuminated center dot reticle. Positioned on the second focal plane, this reticle is designed for rapid target acquisition on close range targets. However, it also provides precision aiming points for targets at a distance, making this scope perfect for both 3-Gun and hunting applications.
2

Monstrum 1-4×24 Alpha Series
Monstrum Tactical specializes in producing high-performance optics that won't break the bank. Although the Monstrum Alpha Series optics are definitely budget friendly scopes, they are packed with tons of high-end features. These features include a glass-etched FFP (first focal plane) reticle and fully multi-coated optics.
Designed to reduce glare and maximize light transmission, the lens coatings on the Alpha Series provide incredible image quality, especially in dim light.
The turrets on this 1-4x LPVO (low power variable optic) are top-notch. These turrets are butter-smooth, clearly marked, and make precision holdover and windage adjustments easy to accomplish, even on the fly.
Built for rugged conditions and harsh weather, Monstrum Alpha Series scopes are made from durable 6061 grade aluminum with a mil-spec hard anodized outer finish. The housing is o-ring sealed and nitrogen filled for true waterproof, fogproof, shockproof reliability.
3

Nikon P-Tactical 300BLK 2-7X32
Nikon P-Tactical scopes are definitely some of our all-time favorite optics. This specific model features Nikon's exclusive BDC SuperSub reticle calibrated specifically for the most common .300 BLK ammo. This makes it the perfect compliment to any rifle chambered in .300 BLK, from the Remington 700 bolt action to the Mini 14.
The P-Tactical 300BLK is o-ring sealed and nitrogen purged. It features a rugged, one-inch main tube made from high-quality aircraft grade aluminum. This scope is as tough as it gets and is thoroughly waterproof, fogproof, and resistant to thermal shock.
Other notable features include bright, fully multi-coated optics, ergonomic target turrets, a versatile zoom range, and an easy zero reset.
4

Trijicoxn 1-6×24 VCOG
Although Trijicon is most famous for their combat proven ACOG (Advanced Combat Optical Gunsight), we think the VCOG (Variable Combat Optical Gunsight) deserves just as much attention. This battle-ready optic is super tough. Forged from durable aircraft-grade 7075-T6 aluminum, the VCOG is virtually indestructible.
The Trijicon VCOG features a first focal plane (FFP) reticle that stays true through the scope's entire magnification range. There are several reticle designs to choose from, so be sure to get the Segmented Circle/ Crosshair calibrated specifically for .300 BLK.
Using only a single AA battery, the VCOG boasts a considerable 1400-hour battery life and six adjustable brightness settings.
5

Steiner P4Xi 1-4×24
The Steiner P4Xi comes in several different models. The 1-4×24 configuration is perfect for engaging close-to mid range targets with your .300 BLK rifle.
Built to handle extreme conditions and rough handling, the Steiner P4Xi is milled from a single piece of aircraft grade aluminum. The scope is both completely fogproof and waterproof. It can even survive being submerged in 33 feet of water.
We love the P4Xi's P3TR illuminated BDC reticle. Designed for tactical rifles and CQB situations, the reticle has eleven different brightness settings. There is also a convenient "off" setting between each brightness level. The illumination controls are also super low profile to prevent snagging in the field.
6

Burris Armalite Rifle Tactical 3×32 Prism Scope
Designed for close to mid range shooting, this battle-ready optic from Burris is one tough cookie. This 3x prism scope is manufactured with a robust and durable aluminum housing. The housing is o-ring sealed and nitrogen purged, providing reliable waterproof, fogproof performance. The scope is also impact resistant and built to withstand repetitive recoil without losing its zero.
This prism scope has a practical yet versatile 3x zoom and bright, crystal clear, fully multi-coated optics. It is parallax free at 100 yards and features a red/green ballistic reticle with ten illumination settings.
The Burris Tactical Prism Scope has a convenient quick detach (QD) mount plus three Picatinny side rails so you can easily add extra accessories, like a laser or flashlight.
7

EOTech XPS2-300 Blackout Holographic Weapon Sight
EOTech is the undisputed leader in holographic sighting technology. The popular EOTech Model XPS2 is the shortest, smallest, and lightest holo sight in the EOTech line-up. The XPS2 also comes in a special .300 BLK configuration that allows shooters to use subsonic or supersonic ammo with the same reticle pattern.
The XPS2-300 Blackout uses a single lithium battery. Since this model takes up only minimal rail space, it is perfect for SBRs chambered in .300 BLK.
EOTech holo sights are built for the battlefield and are virtually indestructible. Even if the glass is shattered or partially obscured by mud or debris, the sight will still function. If you're looking for a rugged and reliable optic for tactical applications, the EOTech XPS-300 Blackout is one of the best on the market.
8

Sig Sauer Romeo5
Red dot optics are perfect for close-quarters shooting applications. If you plan to use your .300 BLK rifle for home defense, tactical applications, or red dot for 3 Gun shooting, a red dot like the Sig Sauer Romeo5 is an awesome option.
This high-quality red dot allows for fast, accurate shooting on close to medium range targets. Perfect for engaging moving targets, the Romeo5 also works well for fast-paced deer hunting scenarios.
Surprisingly affordable, the Romeo5 has a price tag just under $200. However, don't be fooled by this optic's economical price. It is packed with high-end features and offers some serious value for the money.
The Romeo5 features a crisp, clear 2 MOA aiming point with adjustable brightness settings. Shooters can choose from eight different settings to optimize reticle visibility in daytime conditions. The optic also features two brightness settings compatible with night vision devices for after-dark ops.
One of the Romeo5's best features is its motion activated illumination (MOTAC). MOTAC technology automatically turns the device on when it senses motion, then powers it down during periods of inactivity. Designed to conserve precious battery life, MOTAC can extend battery usage to an incredible 40,000 hours or more.
9

Aimpoint PRO Red Dot Reflex Sight
Although the Aimpoint PRO was designed with law enforcement in mind, it works equally well for civilian shooting applications.
The Aimpoint PRO has a crisp, highly visible 2 MOA dot, is night vision compatible, and has a battery life that exceeds 30,000 hours. That means you could leave it on for three whole years before you need to swap out the batteries.
Literally bomb-proof, the Aimpoint PRO has a tough aluminum alloy housing with a hard anodized finish for extra durability. It is waterproof to 150 feet and has a reliable operating range of -49 to 160 degrees Fahrenheit. There really is nothing this best value red dot can't handle in the field.
10

ATN ThOR HD 640 Smart
If you need to cull destructive wild hogs, a good thermal scope is an absolute necessity. While .300 BLK isn't suitable for hunting at ranges beyond 100 yards, this deadly silent shooter is perfect for popping pigs at bow hunting ranges. Since it's easier to get close to destructive wild hogs at night, a good thermal scope like the ATN ThOR HD 640 is an absolute necessity for hunting success.
Designed with hog hunters in mind, the ThOR HD 640 has highly sensitive thermal sensors that reliably catch heat from targets, even when those targets are obscured by thick vegetation, dense fog, or total darkness.
The ThOR HD 640 is far more than a rifle scope. Powered by a high-tech Obsidian T II core, this device is basically a compact, yet highly specialized computer you can mount right to your hunting rifle. The ThOR HD 640 features an onboard rangefinder, GPS location, recoil activated video recording (RAV), and Wi-Fi streaming.
Final Thoughts
.300 AAC Blackout is a versatile, quiet-shooting round suitable for 3-Gun, hunting, and home defense. No matter how you intend to use this high-performance cartridge, it definitely deserves a high-performance optic. Thankfully, as this cartridge continues to gain popularity, more and more quality scopes calibrated for its use are hitting the market.
The best 300 Blackout scope won't be the same for everyone. However, we've tried to include something for everyone on our list of top picks. No matter which optic you choose, be sure to put in some range time. Practice is the best way to become more proficient with your new firearm/scope combo.